Since the age of 14, Pascal has had a passion for cars in general, and the Mustang in particular. He lives in Normandy, in a village between Dieppe and Rouen, and today, at the age of 54, owns a magnificent limited edition Mustang coupe "2012 Mustang Club of America". The model may speak to the blog's older readers, as we already had the opportunity to present Ivan's MCA convertible over three years ago.
Pascal's coupe comes directly from Saint-Jean-De-Richelieu south of Montreal in the province of Quebec, in Canada. The acquisition of this one was much more complicated than it seems despite a globalization which today makes it possible to buy a car at the other end of the planet in a few clicks… Indeed, the specifications of our Normand friend is very specific since he is exclusively interested in a fifth generation model between 2010 and 2012 and, if possible, a limited edition MCA (Mustang Club of America) in Kona Blue color and thus powered by a 3.7 liter V6 and an automatic transmission.
Luckily, he stumbled upon a Ford Mustang in May 2019 that met all of his criteria. The Beauty is located in Canada, in Saint-Jean-De-Richelieu. The only "problem" is that the seller (a garage owner) categorically refuses to export his property in order to keep this limited edition in "La Belle Province".
Without a second thought, a strategy is carried out by Pascal and his importer. The goal is to go through Ford Montreal. The dealer buys the vehicle and immediately resells it to the French, taking a commission along the way. After the usual steps and procedures to import a car to France, the Ford Mustang MCA sets the wheels in Le Havre in August 2019. The homologation is carried out in the months that follow. It is finally on December 15, 2019 at 6:00 p.m. that Pascal takes possession of the keys and can (finally!) get behind the wheel and enjoy his prestigious vehicle, which then records only 56,800 kilometers! Here we are, our friend is the proud owner of a 2012 Kona Blue Club of America Ford Mustang limited to only 351 copies!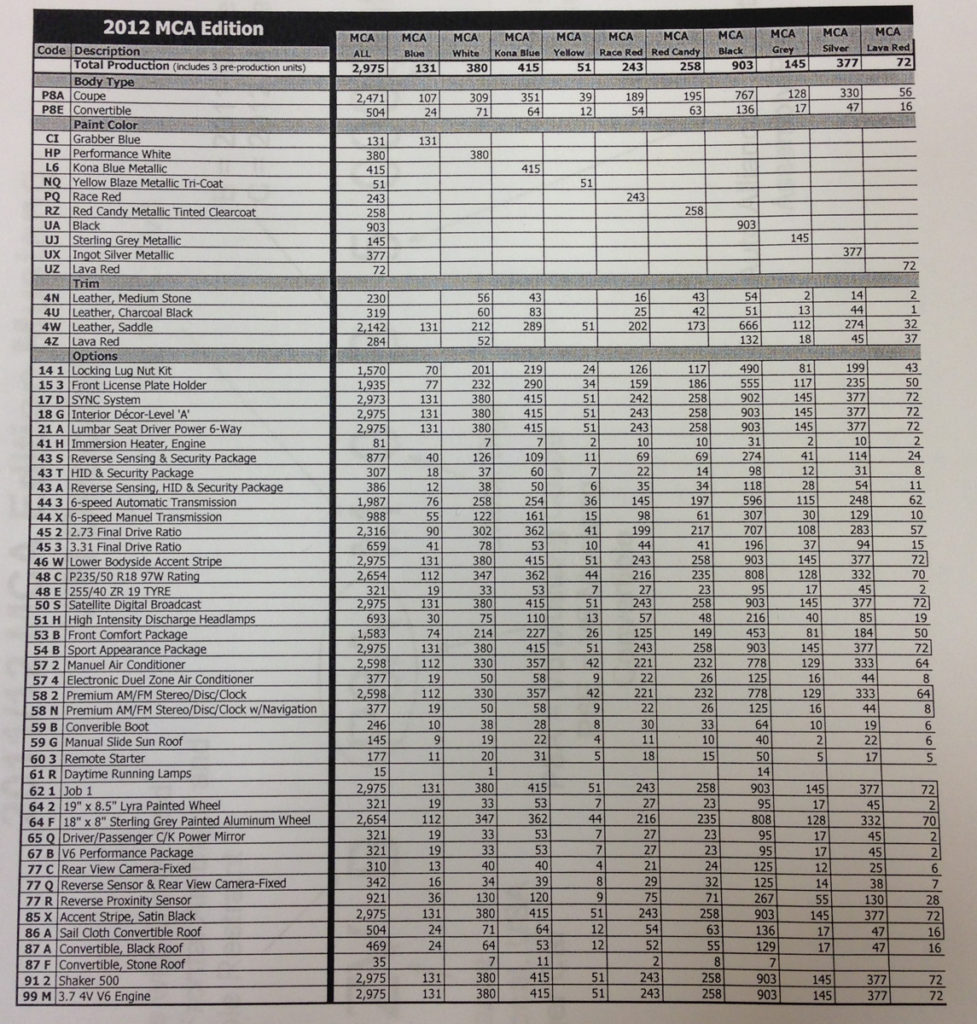 Regarding the personalization of the coupe, Pascal is categorical: his vehicle is a limited edition and (almost) perfectly original, he does not want to make any (additional) modification. Today, only one minor modification has been made to the muscle car: the placement of two Axle-Backs MBRP. This change to the exhaust involves replacing the original mufflers with new ones at the rear only. No impact on the performance (quite sufficient) of the machine, only the sound is improved, making it a little more aggressive than the original.
Today Pascal and his MCA Coupe have driven almost 14,000 kilometers together. In just nine months, we can say that they have already got to know each other well! Our friend does not regret its purchase for a single second and, as he says with great wisdom, "it's a treat every kilometer"!