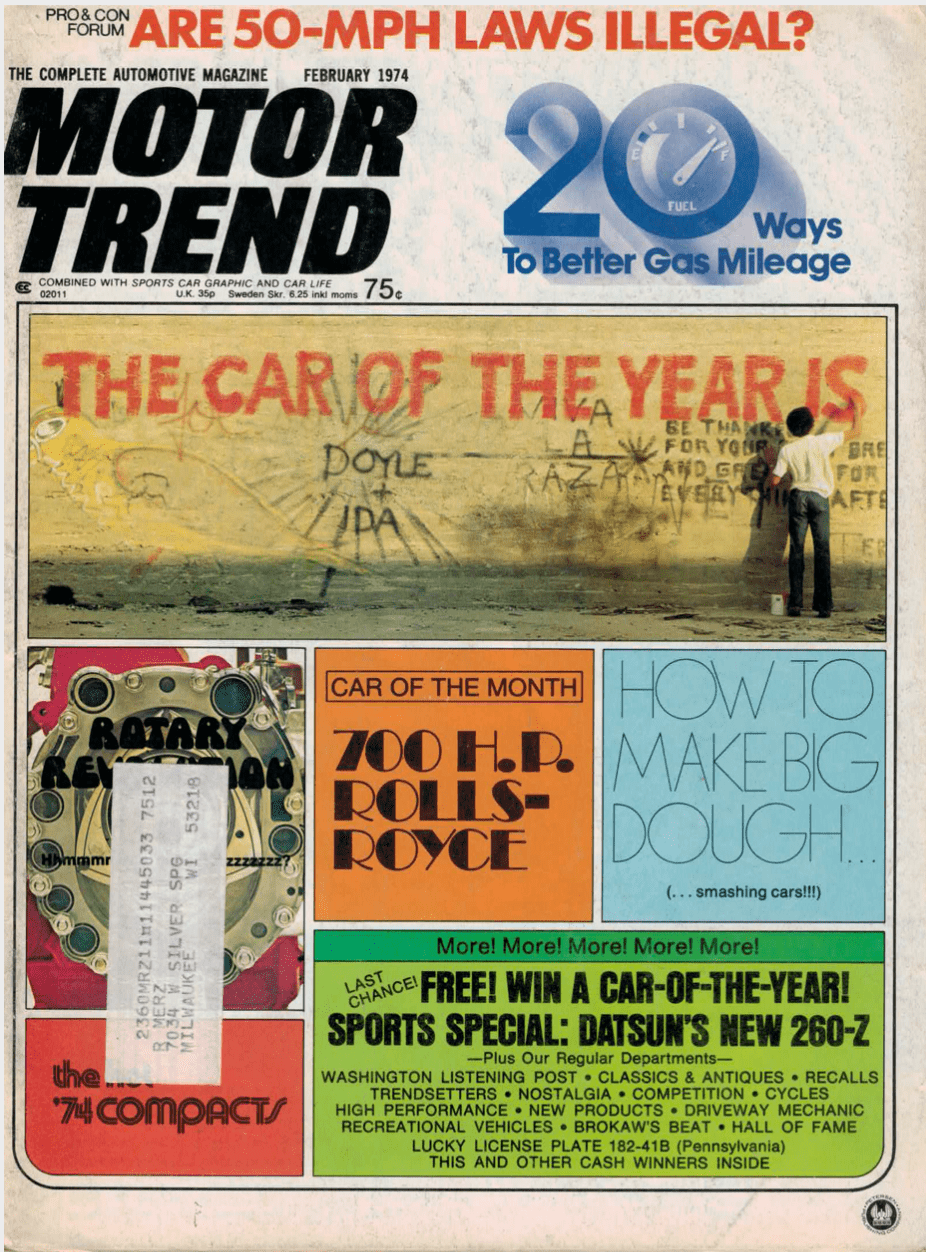 Ford Mustang II
Motor Trend's selection of the Mustang II as the Car of the Year for 1974 was, for the first time in many years, a somewhat effortless decision. In 1974, in a time of introspection about the function and purpose of the automobile, and in a time when the entire motoring world is being reevaluated and radicalized by and energy crisis of enormous dimension, the Mustang II, as the advertisements declare, is indeed « a new class of small car. » Ten years ago, the first sporty, performance-oriented but functional Mustang appeared. Those were different times, perhaps happier days. The Mustang then was most of all an « alternative car »; the swoopy, full-sized American car was both within the financial grasp of most Americans and it also was affordable to maintain and drive. Gas was almost half the price it is today, and there was plenty of it, and Ford engineers were not limited by power and economy-sapping anti-pollution devices. The free-wheeling, wide-open era of the American automobile, unfortunately, is over. Time to face reality. So, you ask, why is the Mustang II the Car of the Year? Here we go: Mustang II represents an excellent balance between a highway cruiser – now impractical for may – and the smaller urban/suburban economy car. Simply put, it is the right size at the right time for greatest number of motorists. Not small enough to be cramping, and not big enough to be excessive. Timing in the marketplace, and timing in the middle of a strangling gasoline crisis, could hardly have been more perfect. It is, we suggest, the size of the immediate future. With perhaps two other exceptions, it is the only really new car produced for the 1974 model year. The Mustang II need not be a « second-class » car for those buyers who cannot afford a host of add-on options. The fact is that the base car is very near to the top-of-the-line model, and with a base price of $2895, it's a remarkable bargain in 1974. Additionally, the number of options permits the customer to tailor the car to suit his needs. The Mustang II is the result of long-range, carful planning toward a goal, and not just a one-shot plunge into a given market area. The car, we suggest, has been totally thought out and conceived. Our final motive may sound vague to many, but its something that has been on our collective mind for some time. The Mustang II is one of the first American cars in many years that represents a serious return to standard-shift transmissions. This car literally helps the driver instead of hindering him. More than anything else, in selecting the Mustang II, we feel Ford, and perhaps all of Detroit will follow, has placed good taste, function and handling/performance before frill, flash and fad.
Variations on a Theme
Part of the beauty of Ford's new Mustang II is that is is not « the right car at the right time, » but the right cars at the right time. For the new Mustang II is actually four distinct and different cars using the same nameplate; each buyer can individually tailor his car to his own tastes. There are two body styles, the so-called notchback two-door hardtop and the three-door 2+2, and each body style can be further subdivided into tow well-defined models. The base model Mustang II with a list price of $2895 is a two-door hardtop, but to call it a base car is to insult it. Standard features include an economical 2.3-liter four-cylinder engine, fully-synchronized four-speed manual transmission, rack-and-pinion steering, manual front disc brakes, and a walnut burl tone instrument panel complete with 6000 rpm tachometer and real guages (not idiot lights) for fuel, anmeter, and water temperature. The standard interior in most low-priced Detroit cars has long had a reputation for being perfect for taxi-cabs and rent-a-cars but not much good for anything else. Well, the standard Mustang II interior changes all that. Thick cut-pile carpeting covers the floor and runs up the sides of the deluxe soft vinyl door panels and the super-comfortable all-vinyl bucket seats are the low-back style with full-width headrests. Other standard items on the lowest-price Mustang II are a soft vinyl headliner, full wheel covers, color-keyed urethane-covered bumpers and lots of bright exterior mouldings that you'd pay extra for on many other cars. The next model in thelineup is the standard three-door 2+2 which features all the same items as the hardtop plus a swoopy fastback roofline, a large hatchback-type rear door and a fold-down rear seat. With the seat down this rear cargo area offers 27 cubic feet of storage space for everything from golf clubs to kitchen sinks. The luxury model of the Mustang II, the Ghia, is based on the two-door hardtop body style but comes standard with many of its own distinctive features. There's a padded vinyl roof with Ghia emblems, dual color-keyed remote control mirrors, vinyl insert bodyside moldings, special pinstriping, stell-belted whitewall radial tires, special wheel covers, and a luxurious interior with deluxe vinyl or cloth bucket seats, special door trim panels, extra-thick carpeting, a super sound package for that typically quiet Ford ride, and a digital clock. With a suggested retail price of $3325, Mustang II Ghia becomes a new standard of small car luxury. Topping out the lineup of Mustang IIs for '74 is the exciting Mach I model that's based on the three-door fastback but include raised white letter steel-belted radials, styled steel wheels, the potent 2.8-liter V-6 engine, and a unique appearance with the black lower bodyside paint treatment. The Mach I combines performance car fun with the utility of a hatchback and the economy of a Mustang II. Now that you've selected just he right Msutang II for your personality and pocketbook you can further enchance its beauty and fuctionality with judicious selections from the option list. There's enough optional equipment available to suit every taste, from the Rallye package, competition suspension, forged aluminum wheels, and radial tires for the performance enthusiast to the tinted glass, air conditioning, automatic transmission, and super sound package for the luxury-minded. In between are items like the 2.8-liter V-6 engine that's standard on the Mach I, power steering, power brakes, manually-operated sunroof, four different radios, luxury interior group, light group, protection group, digital clock and flip-out rear quarter windows. With four different models and dozens of attractive options, Motor Trend's Car of the Year will appeal to a broad range of new car buyers in 1974. In short, Mustang II has something for everybody.
Road Test and Engineering
« We wanted to do a little car that had some class in its fits and finishes. I told 'em: Don't fool around with a lot of heavy moldings »

Lee Iacocca
Ford President Lee Iacocca's directive on the Mustang II nails the concept of this new pony car right to the bench. A little car with lots of class and no fiddling around with unnecessary pieces. Every part, piece, and function has been carefully thought out and for each there is a reason, from the standard front disc brakes to the European-style three-color taillights. Even the traditional Mustang horse emblem has been redesigned for Mustang II. Mustang's secret is that standard is good enough. In fact, better than most. With the exception of radial tires, which should have been standard, and a radio, which we all like, you don't really need anything else. The base car has excellent seats with very good support, rack-and-pinion steering which doesn't need power, and a four-speed manual trans, all for just $2895. Or you can option yourself all the way up to $4700, to the first-class Ghia set-up, a preview of what all personal luxury cars will be like some day. When the original Mustang was conceived, Ford's product planners started with a set of existing pieces belonging to the Falcon. Mustang II, on the other hand, was created from a a clean sheet of paper and what Pinto hardware was found suitable was revised and refined. From the beginning the emphasis was on a smooth and especially quiet ride, despite the fact that Mustang II's 96.2-inch wheelbase is over a foot shorter than that of the '73 Mustang. Suspended between the front side rails of the underbody is a rubber-isolated subframe that serves a two-fold purpose of providing a rigid mounting base for the front suspension as well as isolating engine and road vibrations from the body proper. The tuned front coil spring sit on the lower control arm and are anchored at the top to the suspension cross-member, a design similar to that used on larger Ford cars which reduces transfer of road shocks directly to the body structure. The lower control arm is further held in place by a compression drag strut that allows the wheel to move slightly rearward as it moves up in response to a heavy road-shock. Shocks are concentrically mounted within the front coil springs and a link-type stabilizer bar is used to reduce body roll when cornering. This combination imparts exceptional rigidity to the subframe, permitting the suspension components to move freely in compliance to road imperfections but the liberal use of fairly stiff rubber bushings at all mounting points keeps the passenger compartment virtually isolated from road harshness. Rubber isolation also serves to reduce the natural feedback that rack-and-pinion steering provides along with its precise control, and the optional power steering eliminates any remaining that may creep through. The fairly standard rear suspension of parallel semi-eliptical tuned leaf springs with staggered rear shocks has also been sound-deadened by use of rubber iso-clamps and large springs shackle bushings. These iso-clamps completely surround the spring at the mounting point, thus preventing any metal-to-metal contact between the springs and spring mounts. With the optional radial tires and rear stabilizer bar, Mustang II handling is on par with almost any European car you want to name. It's a smooth ride, free of annoying harshness, but still it transmits enough feel to let you know precisely what's going on under your wheels. The Mustang II talks to you without shouting. The standard 2.3-liter OHC four-cylinder engine is a revision of the original 2-liter Pinto engine, but done so drastically that almost no pieces are interchangeable. It's also the first mass-production engine built in America using metric measurements, has a five main bearing crankshaft and utilizes a cross-flow cylinder head. The 2.8-liter V-6 is a slightly enlarged version of the Capri 2.6 of last year, but unfortunately the improvement in the V-6 is less significant than that of its four-cylinder sister. Smoothness and silence are excellent, but power is lacking. Power from either engine is adequate, however, and gas mileage varies form 19 to 24 mpg when driven carefully. With the current fuel shortage, the mantle of uncanny timeliness has been placed on the shoulders of Mr. Iacocca, again, and the priorities for more horsepower have been indefinitely postponed.
Owner Feedback
What do the owners of the Mustang II have to say about there newly purchased ponies? To find out, we took a list of 48 new purchases and narrowed that down to six families in the sprawling L.A. area. Here's what they said….
Milford G. James is vice principal of a public school in Los Angeles. A bachelor, he is 46. The model: Ghia V-6 with automatic transmission and air conditioning. Why did you buy a Mustang II? I was ready for a change, although I've had Mustangs for years. I had a 1965 Mustang, also a '68 and a '71 Mustang, so I stayed with the car. We take it, then, that you're quite satisfied with the car? Yes. Is there anything you dislike about your Ghia? I don't really like the seat-belt buzzers and the interlock system, but if they make the car safer, then I guess it's okay. Any other comments about Mustang II? I just think it's great.
Patricia Suhrie and her husband live in Glendale and by any standard, they are not your typical new-car buying couple. With the addition of the new Mustang, they now have five cars, including a few antiques. She is a registered nurse, and since it's her car, she'll do the talking. The model: V-6 Mach 1 with automatic transmission and air conditioning. Why did you buy a Mustang II? Because I had a 1970 Mustang and I liked it very much. As far as being happy with the car, I'm still undecided. I'm comparing it with my 1970 Mustang and it doesn't have the pick-up. I suppose that's because of the smog devices. And the smaller engine. I would have to say that I'm happy right now, at least until the 15th of the month. Why? Is that when the warranty is up? No, that's when I make a payment. And I definitely dislike all the buzzers. Definitely. And, except for the loss of pick-up power, that's all I dislike. What do you like about the car?Well, it's getting pretty good gas mileage and I like the way it looks and the way it handles. I would like better gas mileage, because compared to the '70 Mustang, it isn't great. But I was going on the theory that a smaller engine would get better gas mileage than a bigger engine, but my husband keeps telling me that I have a smog device on it that's pulling it down. I suppose that has a lot to do with it.
Harry A. Knowles of Garden Grove is a radar technician with the U.S. National Guard. He is married, 40, and the father of one child. The family owns two Pintos, a '72 Runabout and a new Pinto wagon bought with the Mustang II. The model: four-cylinder, two-door hardtop with manual four-speed transmission. Why did you buy a Mustang II? Actually, I went to the dealer to look at the '73 Pintos, because I thought it was the best time to buy the model (year end) but the salesman misunderstood me, and showed me the car that I now have. Are you happy with your new Mustang II? Yes. It rides like a bigger car and I think it handles like a Triumph TR-4. I like the fuel mileage that I am getting and particularly the styling. I would say, however, that it does need reclining seats. And I didn't car for the buzzers, but they were easy enough to disconnect. Other than that, I really like it.
Mr. and Mrs. Gunnar Jacobson are in their late fifties and live in Pasadena. The man of the house knows his cars – he drives a 280 SE Mercedes-Benz. This time we let Mrs. Jacobson do the talking. The model: Ghia, V-6 with automatic transmission and air-conditioning. Why did you buy the Mustang II? We were driving down Colorado Boulevard in Pasadena and passed a showroom and my husband said, 'Oh, we have to go in and look at the new Mustangs.' So we did, and we ended up driving one off the floor. We wanted a smaller car and it was so beautiful with all those carpets and color is outstanding. I've never had a small car before, either. I'm very happy with it because I think I'm going to get terrific mileage. But I don't like all the (warning) buzzers and bells and lights. I asked if they could disconnect some of it and they said not legally. Otherwise, it handles beautifully; it handles like a larger car. It doesn't have quite the speed, but I think I'll get much better mileage. And I think that will make up for it. Is there anything else you'd like to say about your new Mustang II? Well, I've only had it a short time, but I think I'll be very, very glad to have this car as we get into this energy crisis. We were absolutely smitten by the car because it looked so smart. The dealer had an old picket corral fence around it, with sawdust on the floor, and it just looked so smart.
Thomas Rehnert, 26, live in Garden Grove and is a PBX installer for Pacific Telephone. He had a problem recently; he had to teach his wife to drive. The couple has one child. The model: four-cylinder, two-plus-two Mustang II with automatic transmission. Why did you buy the Mustang II? We bought the car primarily for my wife to begin driving. We originally intended to buy a '73 Pinto. I figured at this time of year we'd get a good deal on the '73 Pinto. I wanted a little car for her, with an automatic transmission that would be easy for her to drive, and cheap. We drove the Pinto and I was disappointed. We went back to the showroom and asked to drive a Maverick. I thought it would be a little quieter and a little more powerful. But before we even looked at a Maverick, I saw this Mustang, and I mentioned that I liked it but that it was out of our price range. He let us take it for a drive and we just loved it. So we bought it. We had trouble with the windshield wiper, but that was fixed. Something real simple that I like is the console; it's like sitting in a lounge chair inside the car. The seats are very comfortable. I would rather the seat back was adjustable. Any other comments about your car? Well, I just like it. After I had it for the first few days, I kind of wished I'd got the six-cylinder, but then it dawned on me that this has adequate power. I only get 15 miles to the gallon right now, but they say in the owner's manual that the mileage will improve.
Everett Stenstrom and his wife owned a 1971 Dodge Scamp prior to their recent purchase of a Mustang II. He is 50, an inspector and the couple live in Tustin, a community 40 miles south of Los Angeles. The model: Ghia V-6 with automatic transmission and air conditioning. Why did you buy the Mustang II? I like the looks of it and my wife just got her license a few months ago. I kept putting that off and I wanted a small car for her. She'll be driving it to work. I'm still not used to it; it is small and I'm a little over six feet tall. My wife is five-feet-four. I don't think there is anything that I dislike about it. The digital clock is good, too; you don't have to Mickey Mouse with your wrist watch to get the time. And like I said, maybe they got the right theory with this car at the right time. One feature I can't help disliking is, well, I'm used to a big trunk. I'm also a little disappointed with the mileage I'm getting but my wife drives in stop and go traffic, and travels at 10 or 15 miles an hour a lot because of that. I haven't taken it on a long trip yet to find out its potential. Are you happy with your Mustang II? Frankly, yes. But when I first got it, it had a transmission leak. I got it on Saturday and took it back on Sunday. I was a little perturbed. I'm going to take it to a diagnostic center and get it really checked out. But my wife is happy with it, and if she didn't like it, she would be biting my head off.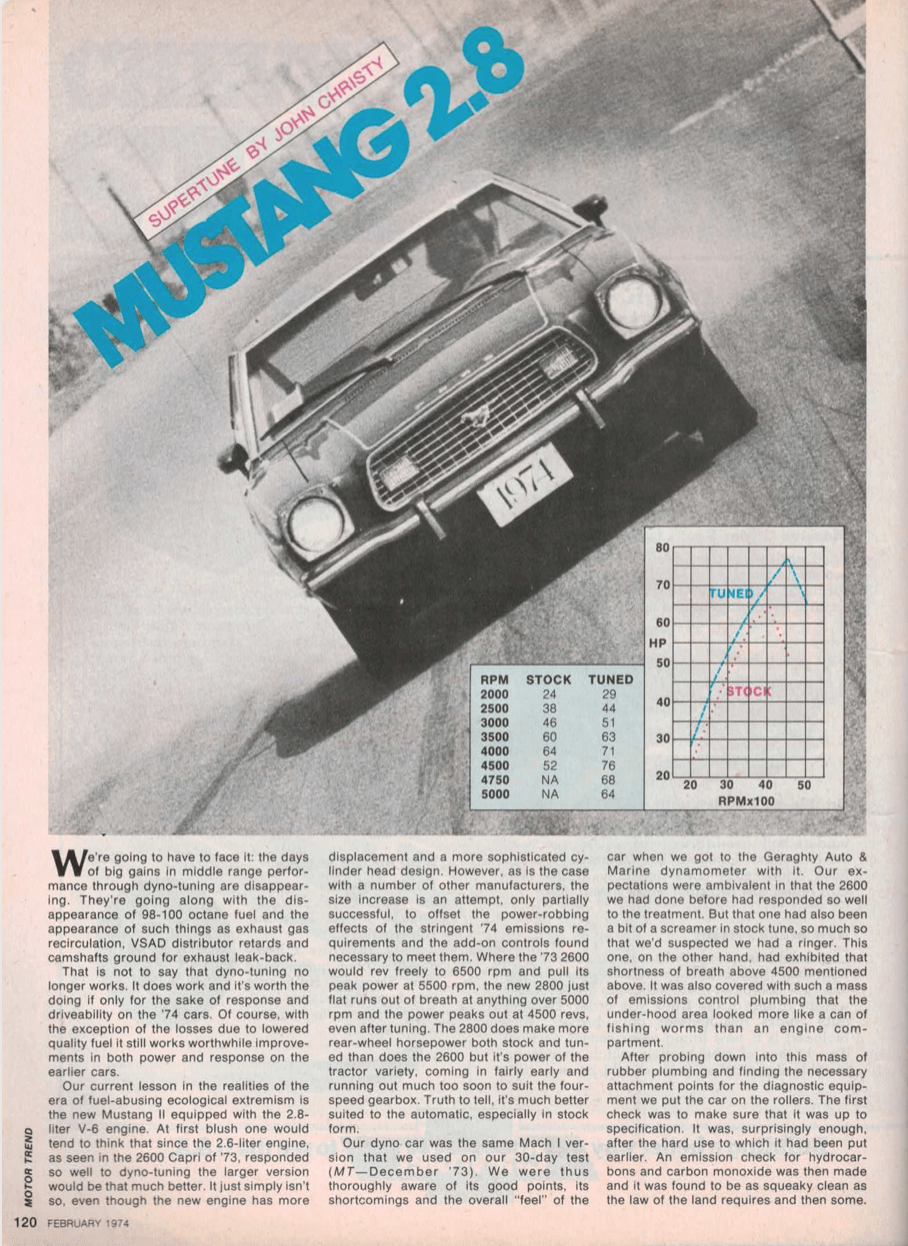 SUPERTUNE – MUSTANG 2.8
Article de John Christy.
We're going to have to face it: the days of big gains in middle range performance through dyno-tuning are disappearing. They're goin along with the disappearance of 98-100 octane fuel and the appearance of such things as exhaust gas recirculation, VSAD distributor retards and camshafts ground for exhaust leak-back. That is not to say that dyno-tuning no longer works. It does work and it's worth the doing if only for the sake of response and driveability on the '74 cars. Of course, with the exception of the losses due to lowered quality fuel it still works worthwile improvements in both power and response on the earlier cars. Our current lesson in the realities of the era of fuel-abusing ecological extremism is the new Mustang II equipped with the 2.8-liter V-6 engine. At first blush one would tend to think that since the 2.6-liter engine, as seen in the 2600 Capri of '73, responded so well to dyno-tuning the larger version would be that much better. It just simply isn't so, even though the new engine has more displacement and a more sophisticated cylinder head design. However, as is the case with a number of other manufacturers, the size increase is an attempt, only partially successful, to offset the power-robbing effects of the strigent '74 emissions requirements and the add-on controls found necessary to meet them. Where the '73 2600 would rev freely to 6500 rpm and pull its peak power at 5500 rpm, the new 2800 just flat runs out of breath at anything over 500 rpm and the power peaks out at 4500 revs, even after tuning. The 2800 does make more rear-wheel horsepower both stock and tuned than does the 2600 but it's power of the tractor variety, coming in fairly early and running out much too soon to suit the four-speed gearbox. Truth to tell, it's much better suited to the automatic, especially in stock form. Our dyno car was the same Mach I version that we used in our 30-day test (MT-December'73). We were thus thoroughly aware of its good points, its shortcomings and the overall « feel » of the car when we got to the Geraghty Auto and Marine dynomometer with it. Our expectations were ambivalent in that the 2600 we had done before had responded so well to the treatment. But that one had also been a bit of a screamer in stock tune, so much so that we'd suspected we had a ringer. This one, on the other hand, had exhibited that shortness of breath above 4500 mentioned aboce. It was also covered with such a mass of emissions control plumbing that the under-hood area looked more like a can of fishing worms than an engine compartment. After probing down into this mas of rubber plumbing and finding the necessary attachment points for the diagnostic equipment we put the car on the rollers. the first check was to make sure that it was up to specification. It was, surprisingly enough, after the hard use to which it had been put earlier. An emission check for hydrocarbons and carbon monoxide was then made and it was found to be as squeaky clean as the law of the land requires and then some. The readings at idle were 1.3 percent CO and a mere 200 parts per million in HC. At cruise under partial load, the equivalent of 35 to 40 mph on the street, the reading dropped to 1.0 percent CO and 180 ppm in HC. The primary power system (accelerator pump) kicked the CO up to 3.0 percent, dropping back to 2-+ percent when the secondary throttle kicked in. With that out of the way a power run was made and, as mentined, the engine was surprisingly strong in terms of plain, torque-related horsepower. It started out with 24 horses at the rear wheels at 2000 rpm. The power built quickly to 38 hp at only 2500 revs and at 3500 it was putting 60 horses down on the rollers. At 4000 revs there was 64 hp and that was the end of any more gains thanks to an overly hot plug range. The Autolite AG-42 plugs started to give up and the power dropped to 52 at 4500 and then went away to the point where we didn't bother to record the reading. The diagnosis from all the data gathered indicated that while it was only a touch lean on the primary side or cruise, it went dead lean when the secondary throttle opened to allow a new rush of air. This just made the hot plugs worse and effectively shut things down at 4000 rpm. In the ignition department things looked better. The 2800 doesn't have a vacuum retard so there was no unsolvable problem on that score. In fact the only thing that might cause a loss in performance was a slightly slow mechanical advance curve, with a total of 35 degress (crank) coming in at 4500 rpm. Coupled with the six degrees of vacuum advance it was more than sufficient in amount. Since the vacuum advance was only six degress it didn't need to be limited as has been the case with some other cars and since it utilized mild venturi vacuum instead of the strong manifold vacuum there was no surge. The only change needed was a quicker mechanical curve to bring in the peak at 3300 rpm. This the only change required in the igntion was a lighter secondary spring which was done. This last item is simply done with the distributor off the engine and placed on a Sun strobe machine. The trick is geting the igniter out of the engine and getting it back in again. The blasted thing is buried way at the back of the engine and nestled down next to a heavy plate. The only way it can be loosened is with a special crow-foot ignition wrench which any decent gas station or garage should have but which is a bit rare in the home mechanic's toobox. Nonetheless the job is one of those knuckle-barking, profanity-invoking bears. It isn't complicated – just annoying. The replacement isn't quite so bad but it's best to bump the rotor into an easily marked positon before removal, so that the distributor can be reinserted within a reasonable area of right timing. The other painful job is concerned with the plugs on the right side of the engine from the driver's view or left when facing the engine. The first or front pair are not difficult, just annoying but the rearmost one is a swine, hidden down behind the battery. It can be removed with a ratchet and socket but be prepared to swear a lot. The other side is, as if to make up for it all, a snap – just reachin in with the socket and do it, no problem. This was all learned in the replacent of those hot Autolite AG-42 plugs with AG-32 items which is what it should have had in the beginning since the 42s were practically cremated. The air/fuel reading incdicated that the carburation was almost on in the primary circuit, needing only a touch of richening, less in fact than a normal jet step. The secondary circuit, however, was leaning out to the point where plugs would fry in a few thousand miles and quite possibly valves would go in a few thousand more if the car were driven much in the scondary or high-cruise range. It was quite likely this factor as well as the high heat range that had brought the original plugs to the verge of demise. As a consequence the primary power was richened a mere touch with a jet from an earlier kit and the secondary system was enriched by enough to prevent the high lean-out. It might seem that this would be counterproductive for economy and on the dynamometer where the operation is full load, full throttle, it is. However, on the road, in a real-world situation the effect is that less throttle is required to make the car do what it did originally on nearly full throttle, particularly in the areas of climbing hills and part throttle acceleration in traffic. With the slight enrichment of the primary circuit and the improved igniton curve more time is spent in low-cruise or primary operation with the scondary throttle closed than before and booting the gas pedal through the firewall is not longer necessary to make traffic pases. On the dynamometer the improvement wasn't spectacular but it was significant and a somewhat different picture emerged from the first runs. There was a gain of five at 3000 revs. At 3500 rpm the gain was only three. But a 4000 rpm where it had peaked before with 64 rear wheel hp it now showed 71 and at 4500 revs, 76 hp showed where only 52 horse had lived before. At 4750 it was still making 68 hp and at 5000 rpm it was still pulling 64. Very obviously the camshaft for the 2800 was different from the one in the 2600 since that is the item that controls where peak power occurs. It gives one to think that if one wanted to cheat a bit, the cam could be retarded by a degree or two, sacrificing some of the tractor-like low end torque an gaining maybe a thousand extra usable revs. This is purely conjecture since we haven't tried it but things like that havce worked elsewhere and we might just make some future experiments along those lines. If it works we'll let you know. In any event, while the numbers shown on the dynamometer weren't all that specatcular, performance on the road, as indicated above, was significant. The response was such that shifts both up and down could be made much more neatly and with more precision. Acceleration in traffic was better with less throttle and full pedal was not need to maintain speed on freeway hills. Although the dyno runs were followed by 220-odd miles of hard driving on that tank of fuel, the same on which the dynamomter runs were made, the mileage was higher by one mile per gallon than was the previous tankful which had been used over much the same sort of driving terrain. While this doesn't constitue a test per se it is indicative since part of that tank was used in the fuel-consuming dyno-tuning process and in harder driving than normal to test the results. In any event a kit is planned for the Mustang II 2800 in the near future and while the installation won't exactly make your Mustang give you nosebleeds it will make it more driveable, responsive and, if you drive it right, just could give yuo a little more distance per tank of gas. To check the availability, write Geraghty Dyno-Tuned Products, 3223 N. Verdugo Rd., Los Angeles, CA 90029. And if you do install it, please do it right; it's more important than ever on '74 cars.